Can Mobile Gaming Boost Multi-Location Brands?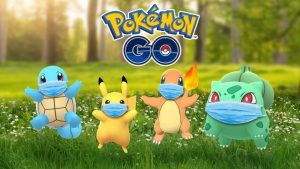 Say the name Pokémon Go, and most people think about that game from 2016 that drove legions of kids into local parks and streets to "catch them all." It may come as a surprise that the game is still killing it. Though the tech press has moved onto shinier objects, the mobile sensation is thriving.
That success comes on a few different levels, including user engagement and revenue (what really matters). For the latter, the game is on pace to have its best revenue year to date in 2020 with $1.2 billion, and it already passed $4 billion in lifetime revenue.
Revenue is mostly from in-app purchases, where players pay for digital in-game elements to accelerate their leveling up. But Pokémon Go maker Niantic is also looking to diversify its business model with other revenue streams — most notably, local advertising.
This secondary revenue source is Niantic's attempt to tap into the long tail of local businesses by monetizing the game's migratory play. Its natural mechanics send hordes of players to specific real-world locations … why not channel them in specific ways?
This thinking led to its program that lets local businesses pay to designate their locations as gyms and Pokéstops. These are the physical-world waypoints where in-game activity occurs. That activity generally involves gathering game elements or up-leveling.
The result is real-world foot traffic driven by in-game mechanics. This can be a unique opportunity for local businesses in that competitors haven't yet caught on. And it's particularly fitting to verticals like QSR, coffee, or any that can help Pokémon Go players refuel.
The program is also fitting to contextually relevant businesses. In that sense, GameStop is now working with Pokémon Go in the above ways. The multi-location brand demographically aligns with Pokémon Go players, who tend to be young to middle-aged gamers.
Its four-month campaign designates 500 GameStop stores as Pokéstops. It's too early to tell if it's working, but Niantic has shown in other cases that the program boosts foot traffic. Niantic CEO and Google Earth founder John Hanke calls it the "anti-Amazon."
You may be asking, wouldn't a global pandemic preclude a game that's based on real-world play? The answer is that Niantic has been creative in pivoting its UX to accommodate Covid-era dynamics including socially distanced play. And the numbers above don't lie.
As it relates to its local advertising program, Niantic has amped up in-game communications for things like retailer partners' Covid policies. In the end, Covid-19 could drive more companies to boost waning holiday foot traffic in the ways Niantic is offering.
In fact, retailer declines are the inverse of Niantic's 2020 engagement and revenue growth noted above. This could attract more multi-location brands, given that Niantic has done what they can't do on their own in boosting physical-world engagement.
GameStop is certainly in that boat, given a 13% year-over-year drop in same-store sales and a 27% drop in net sales in Q3. This was offset to some degree by 800% e-commerce growth, but the retailer is still driven to reverse its foot-traffic declines.
Pokémon Go is often considered to be AR as it overlays graphics on the real world. But on another level, driving real-world behavior through mobile gaming represents a greater digital-physical fusion. More brands should consider augmenting their foot traffic.
VIA: StreetFight Magazine