Providing a Cutting-Edge Retail Customer Experience: 10 Ways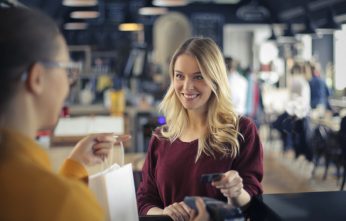 A host of potent factors — the internet-empowered consumer, the Amazon effect that is forcing all retailers to up their game, and a strong economy – keeps raising the bar for delivering an outstanding customer experience (CX) across all channels.
You could say that CX today is the product — the number-one differentiator in winning over consumers who, according to the latest government figures, are in the mood to spend.
"For consumers, shopping in today's environment is the most convenient it has ever been," a Deloitte report said. "Forward-thinking retailers are setting the expectations bar high for the rest of the pack. Whether in the store or online, consumers want a friction-free experience."
Delighting customers isn't about getting one thing right; it's about firing on all cylinders, both online and in brick-and-mortar stores, to make an authentic connection with buyers to drive satisfaction and loyalty.
What does that look and feel like? Here are 10 examples of best practices that represent the state of the art in retail CX.
1. A seamless checkout experience.
No one enjoys waiting in a store checkout line or dealing with a clunky or annoying online checkout process. A mobile point-of-sale initiative at hundreds of Gap Inc stores is an example of how retailers are attacking the problem in-store. Any online seller worth their salt is implementing ways to make the shopping card process fast and easy.
I'm a big fan of the Starbucks app's integration with PayPal (and several other payment systems). It maintains an account balance and automatically reloads money upon dipping below a certain amount, so that when I place an order, I don't have to fiddle with payment — I just walk in or drive up and pick up my coffee.
2. An end to scavenger hunts.
I was with my young daughter in Target, walking up and down aisles looking for a certain toy, when I remembered that the Target app has an indoor mapping function that directs you to the location of items in stock. This is a great example of using digital technology to improve the in-store experience and eliminate one of its most frustrating aspects.
3. Inventory visibility.
For times when you need or want an item right away, it's so convenient when you can go to a retailer's website and see whether your local store has the item in stock. Some retailers, like Best Buy, offer this feature; others are still catching up. This visibility should become standard industry practice.
4. A next-level omnichannel experience.
Retailers have understood for quite a while that customers want an equally smooth experience across physical and digital channels. Those on the cutting edge, though, are getting creative with mobile-ready, in-store pickup techniques. For example, Chipotle is testing new restaurant design concepts to reduce friction and increase convenience in its digital business that has reached $1 billion.
5. Expert sales associates.
Before most of us even step foot in a store, we already know so much about products from our online research, yet we still may have questions. Bed Bath & Beyond executive Barrie Carmel said at NRF 2020 that the company has found over 80% of consumers search online before entering the store.
Since a main brick-and-mortar selling point is supposed to be the ability to talk to a knowledgeable associate, it never reflects well on a retailer when a customer seems to know more about a product than that person. And, conversely, the store scores big points when the associate knows their stuff. Retailers must go the extra mile in making sure employees are well trained before they face customers.
6. Lightning-fast delivery.
Amazon has recalibrated consumer expectations about delivery time. This has put a lot of pressure on all online retailers to follow suit. It's crucial for businesses to streamline their internal processes and work with their supply chains to meet the demands of increasingly impatient buyers.
7. A good shipping experience beyond speed.
Retailers must remember that their responsibility for CX doesn't end when they hand off an order to a shipping fulfillment service. In consumers' minds, it's an end-to-end experience, from the ordering process to when the item arrives. This is especially true for larger items like furniture.
Retailers must make sure they're working with shippers whose attention to customer service is as hearty as theirs. (Look at how Amazon makes it all feel like one cohesive experience.)
8. In-moment support channels that don't fragment the experience.
I recently tried to order a new refrigerator and dishwasher from a major home improvement retailer. Wanting to know if they would handle installation and take away the old appliances, I used the chat program on their website. I was given an 800 number, but the rep closed the window before I could write down the number.
As more retailers use chat windows or click-to-call to help customers, it's important to deliver an experience that further pleases the customer — not the other way around.
9. An Instagram strategy.
Instagram is the most popular social media platform with Generation Z, and half of millennials are on it. If retailers want to appeal to younger customers, they need to have an Instagram strategy, with posts designed to not just get attention but convert to sales.
10. Awareness of pet peeves.
Retailers should be aware of the little things in their stores that annoy customers – such as poor Wi-Fi, the practice of blocking another retailer's site, or constantly asking for your phone number or email address without explaining what the information will be used for – and stop doing them.
By following these 10 principles, retailers can thrill customers at a time when there really is no other choice.
Author: Janelle Estes is Chief Insights Officer at UserTesting, a human insights platform.
VIA: StreetFight